Discussion Starter
·
#1
·
Long story but it's funny (cliffnotes at the bottom)
Found a member on another forum who was selling his 07 r6 (wrecked) and after a few pm's I went out to NY to check the bike out. I liked what I saw so we decided to trade my '99 R6 for his '07 R6. I ended up renting a 2009 Dodge Ram to transport my '99 to NY and to bring back the '07 to IL. Before I left on Friday, Tim (seller of the 07) called me and told me that the bike was a local shop and they were supposed to be open til 6pm but when he called them, they were already gone for the day (it was around 5pm). The shop was supposed to be open on Saturday, so I decided to take a ride out anyways and hope for the best.
I had the bike under a blue tarp because it was raining in Illinois and Indiana. My first fuel stop was in Ohio, about 6 hours after I left home, and by that time it stopped raining. As me and the wifey got out, we check out the bed to make sure everything is still gravy and we find this: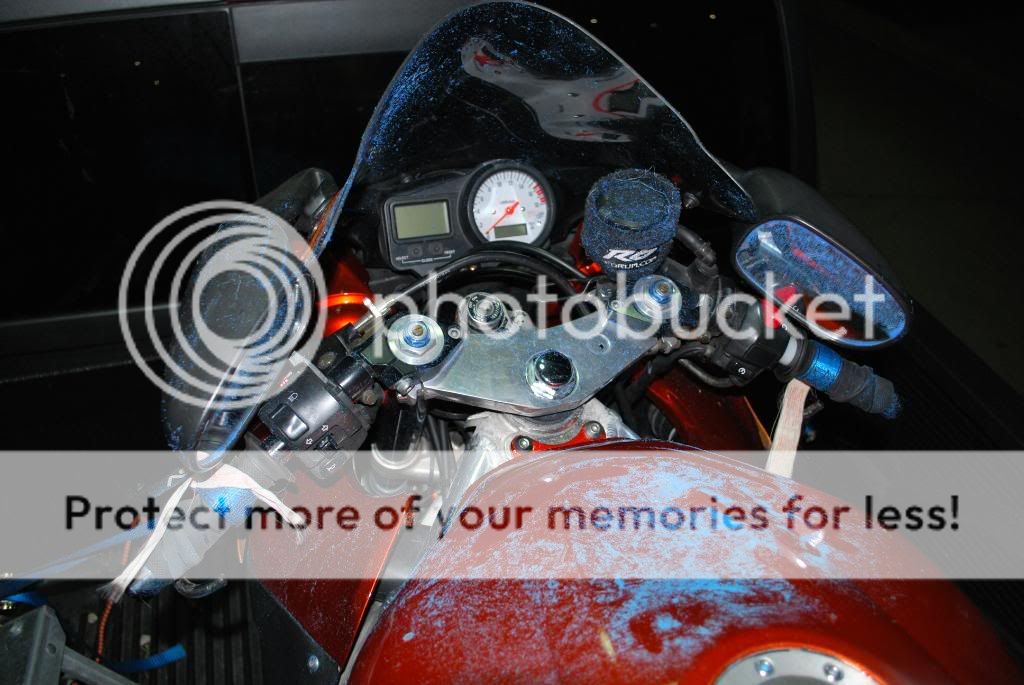 I was averaging about 70mph and the tarp had ripped around the seat area (the gray spot is from the bungee cord rubbing again the fender). When I saw the tank covered in blue, I was PISSED
My wifey suggested calling Tim up, but it was midnight our time (1am NY's time) and I didn't think that was good idea. I tried to rub off the blue stuff, but nothing was happening. I tanked up, took the tarp inside the cabin and drove off fuming. The next time I stopped was in NY about 100 miles from Tim's house.
It was drizzling on and off between Ohio and NY so the bike had a few droplets on it. I decided to try to see if the blue paint would come off and to my surprise it did. I guess since it was dried up in Ohio it wasn't coming off but a little bit of water and it was coming off. HUGE relief, even though the seat cowl was still messed up but better than repainting the tank and all the other parts that had tarp on them.
We get to Tim's house around 7:30 NY time and he tells me still no luck on the bike, but the shop should open up around 10. We unload the '99 and he takes if for a test ride, comes back happy so we decide to go grab some food. We get back a little after 10am and the place is still closed. Tim tries to get ahold of someone that has the owners personal number and after about a half hour or so his neighbor knows where the owner lives, conveniently only a couple miles away.
With the truck bed empty, me and my wifey along with Tim and his girlie get into the truck and when his neighbor (who knows where the owner lives) gets in, we are off to the house. I'm a city boy, so off-roading isn't something I have done much of. We are driving down some side roads and the girl who "knows" where the owner lives says, "hmmmm, I wonder if at the last stop sign, if we should have turned right instead of left." So we decide to turn around and go the other way. On both sides of the 2 lane road (1 each way) are fields and when I see that in one spot there's gravel I decide to drive a little off the road to make a u-turn. No later than 10 seconds after I hit grass with my right tire do we get stuck in a ditch!
But it's ok, cause I can switch the truck from 2 wheel drive to 4wd and even 4wd lo. UMMMMMMM, NO! Didn't work. The front of the truck was stuck on a rock covered by grass, the front left wheel was hanging over the ditch, the left rear wheel looked like it was done for and the right rear was a good 2 feet in the air, and the right front wasn't doing a damn thing.
Tim gets a hold of a buddy of his who has a Silverado and chains to help get us out. While waiting, the owner of the shop calls Tim and after a few seconds of talk, says she will be at the shop along with the tech that was checking things out on the bike. We wait for about a half hour and the dude shows up. He hooks up the Silverado to the stuck Ram and yanks me out. No major damage done, and since it's not my truck (rental) I couldn't really care less.
We get back to the shop and the lady and the tech are there and the tech helps us load up the bike in the truck and off we go. Last week when me and 2 buddies went to check it out, I drove for 24 hours straight (12 hours there and 12 hours back) and didn't sleep for 36 hours. This time, I drove 12 hours there, 12 hours back and with the delay of picking up the bike/getting the truck stuck I didn't sleep for 40 hours. What a long start to the weekend, but it's ok cause it's football Sunday. Time to sit back, relax and have a few :drink :drink
But on the bright side, I got a winter project now. I'll be making a thread about it soon so keep a look-out.
Cliffnotes:
-Find guy here selling an 07 salvaged R6
-After seeing the bike last weekend in person, we decide to trade my '99 for his '07
-Before leaving, Tim (seller of '07) says the shop closed early and he couldn't get the bike out but they should be open at 10am on Saturday
-I rent a Ram to transport the '99 up to NY for IL. Leave Friday night
-I covered the bike with a blue tarp so it wouldn't get rained on since it was raining when I was leaving.
-First stop for gas I notice that the tarp rubbed off on the bike and a bungee cord rubbed off some paint by the seat
-Try rubbing the blue off, but doesn't work
-Second stop for gas, the bike has been exposed to rain (since I took off the tarp) and the tank is a little wet. I try again to rub off the blue with my finger and it works. (1st set of pictures)
-Get to the house to trade the bikes, but bike is locked in a local shop and shop doesn't open til 10am
-After getting some breakfast, we go to the shop but at 10:15 shop is still closed
-Tim calls around hoping that someone has the owners personal number
-His neighbor ends up knowing the number and where the owner lives
-After calling and leaving messages, nothing happens so we decide to drive out to the house (only a few miles away)
-After driving for a little, the girl that "knows" where the owner lives, thinks we might be going to wrong way so I decide to do a u-turn
-Got the truck stuck in a ditch that to me looked like it was just grass (2nd set of pictures)
-Tim's buddy shows up with his Silverado and gets us out
-While waiting for Tim's friend to show, Tim gets a call from the owner and says she will be at the shop waiting for us
-LONG FRIDAY/SATURDAY, but he's happy with the '99 and I'm happy with the '07